December Greetings!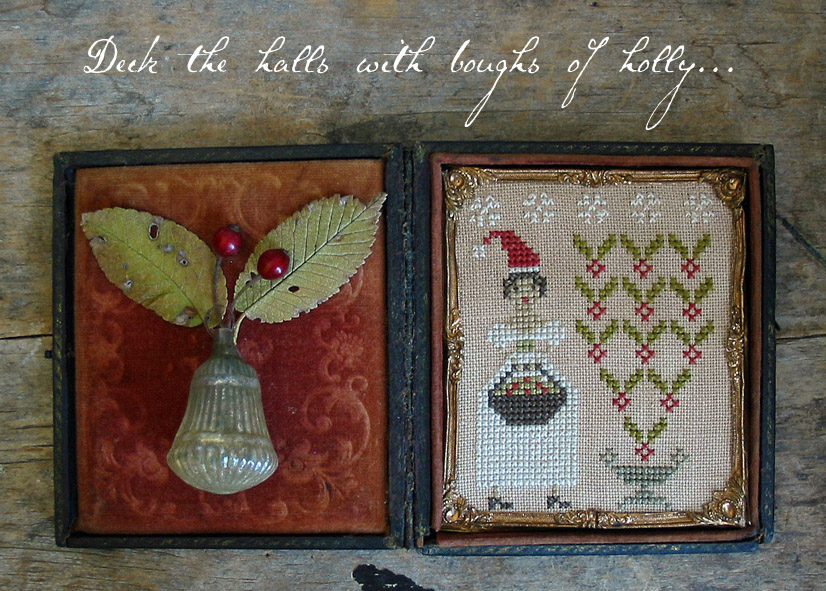 They sang the story out, for they could not stop to tell it in heavy prose. They sang, "Glory to God on high, and on earth peace, good will towards men." I think they sang it with gladness in their eyes; with their hearts burning with love, and with breasts as full of joy as if the good news to man had been good news to themselves.
~Preacher Charles Spurgeon on "The First Christmas Carol" in a sermon delivered on December 20, 1857~
And indeed, it is that glorious, holy, festive time of year again!
Be merry all, be merry all,
With holly dress the festive hall;
Prepare the song, the feast, the ball,
To welcome merry Christmas!"
~William Robert Spencer~
New Patterns!
I'm so pleased to offer three festive patterns for your stitching pleasure this month! "A Sprig of Holly," "Fanny Griswold," and "Merry Little Stitches." All are small, quick stitches. You can still get them done in time for the holidays. Available under Featured Items at right as well as on Pattern Mart.
Early Work Mercantile
I've had many requests for more of the little wood and wire signs that reflect the sentiments of the Christmas season. You will find them, along with a framed Christmas sampler and two primitive dolls on my Early Work Mercantile page!
Quaint Country Ladies Stitching Club
I couldn't be more excited to tell you that I am partnering with Dyeing to Stitch on a new Stitching Club in 2018! I will be designing 4 projects ~ each featuring a quaint country lady from one of the antique samplers in my collection. Kits include pattern, threads and finishing supplies ~ fabric, ribbon, etc. Spaces are limited! Visit Dyeing to Stitch's web site for more information and to download your registration form: http://dyeing2stitch.com/
Thank you!
Sincerest thanks to everyone who shopped my After Thanksgiving Sale! It was a huge success and I am ever grateful to you, my wonderful friends and customers.
~ * ~ * ~ * ~ * ~ * ~ * ~ * ~
May you have the gladness of Christmas which is hope;
The spirit of Christmas which is peace;
The heart of Christmas which is love."
~~Ada V. Hendricks~~