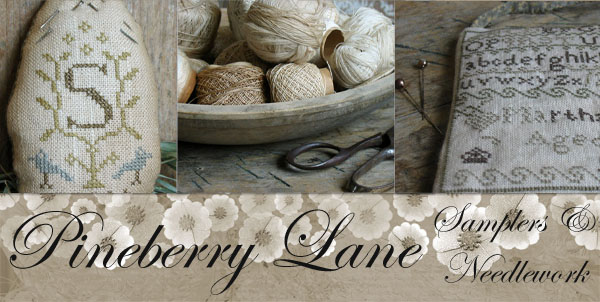 ---
February Joys
Jack Frost painting pretty pictures on the window...
The shadows bright moonlight casts on the floor...
A pile of soft bed linens to pull up to my chin...
The clock ticking on the landing...
A warm mug of coffee to wrap my hands around…
The smell of books...
And the way a good book feels in your hand...
And always, always, a bit of stitching waiting to be taken up...
"Surely as cometh the winter, I know ~
There are spring violets under the snow."
~ R. H. Newell ~
Early Work Mercantile
This month on Early Work Mercantile I'm offering several sets of paper covered boxes (each comes with a thread waxer cast in one of my old German chocolate molds) as well as tiny, old wood and wire signs for Valentine's Day and Easter. Please do take a peek!
Quaint Country Ladies Stitching Club
"Wool & Flax" is the first project for the Quaint Country Ladies Club. Registration closes February 14th! Visit Dyeing to Stitch for more information and to download your registration form: http://dyeing2stitch.com/
In Closing...
I leave you this month with the wish that you find simple, unaffected joy in the gifts that are around you each and every day. And a most happy Valentine's Day from me to thee…
"The gift is small,

But love is all."

~Old Sampler Verse~

~ * ~ * ~ * ~ * ~
---
Sign up for my email list to learn about new pattern releases, finished goods, and sales! It's easy to sign up below. Rest assured that your email address will never be shared. And should you ever want to unsubscribe ~ that's easy, too ~ a link is provided at the bottom of each newsletter. Thank you for your interest in my work.
Sign up for Email Updates