Welcome June!
"What is one to say about June, the time of perfect young summer, the fulfillment of the promise of the earlier months, and with as yet no sign to remind one that its fresh young beauty will ever fade."
~ Gertrude Jekyll, On Gardening ~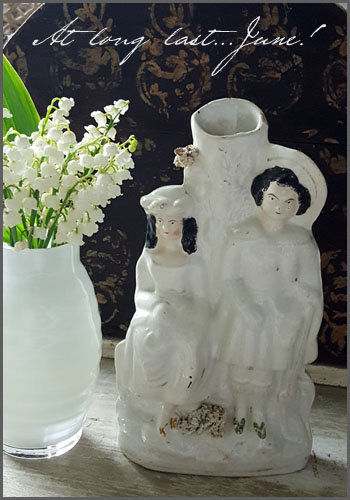 At long last, June has arrived and the garden is in. The vegetable contingent this year is very small, consisting of a single tomato tucked amidst the herbs. I chose to focus, instead, on flowers and found myself irresistibly drawn to those with coral, salmon, and cherry hued blooms (hints of which you will see in my newest pattern). I watch over my fledgling plants with the tenderest care and love. I pray to St. Fiacre to grant my garden a fruitful season. And I thank the good Lord for blessing me with a deep heart ~ one that appreciates the smell of freshly turned soil, the cheerfulness of bright blossoms, and the satisfaction of a day spent in a garden.
"On this June day the buds in my garden are almost as enchanting as the open flowers..."
~ Francis King ~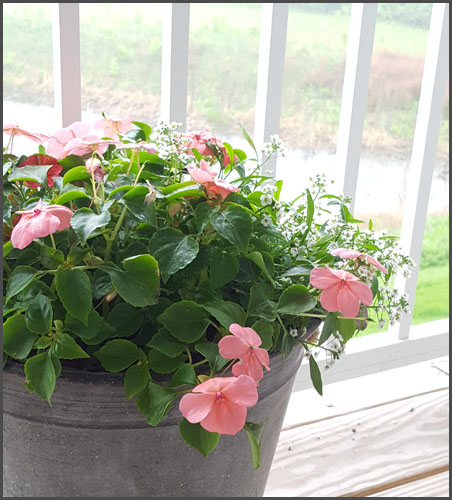 New Pattern!
I am finally ready to release the pattern I promised back in April. Had you given up on me? I offer my sincerest apologies, but a design has to feel "just right" before I can offer it to you. Introducing, "Abide in Me" – a design inspired by the following verse from John 15:4-5 (KJV – because I love the old language):
"Abide in me, and I in you. As the branch cannot bear fruit of itself, except it abides in the vine, no more can ye, except ye abide in me.
I am the vine, ye are the branches."
Stitching the lovely floral and religious motifs was a tonic to my spirit. The soft color palette with hints of peach and pink was soothing and the employment of vintage silk thread for the ivory motifs an added pleasure. I hope you feel it was worth the wait.
Available in mailed and instant download formats under Featured Items below. The vintage silk floss is available, too!
Instant Download & Free Pattern Reminders
After purchasing an instant download from my web site, you will find your e-pattern under My Account > Downloads.

Free patterns are available by going to the item page and clicking on the link in the item description. No need to put them in your cart or create an account. Happy stitching!
Until next month, my friends, enjoy these blessed early days of summer!
As Ever,
Wendy

Featured