February Greetings!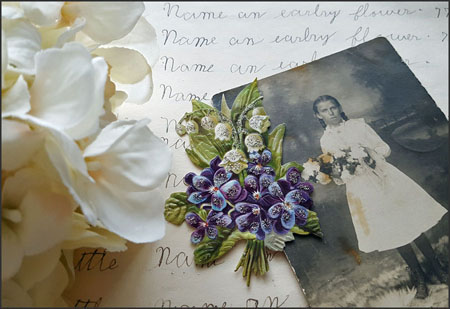 Once again, snow is falling thick and fast, covering the field and trees with a blanket of white. It is a beautiful snowfall – the kind that makes the world outside feel hushed and slow. Nothing is moving outside. Even my feathered friends must be hunkered down for the duration. Despite the deepening drifts outside my window, it is heartening to know that one more month of winter is past and we are that much closer to green grass, gentle breezes, and the nodding heads of flowers in the garden…
"Surely as cometh the winter, I know ~
There are spring violets under the snow."
~ R. H. Newell ~
Quaint Country Ladies Club
Don't forget to sign up for the Quaint Country Ladies Club with Dyeing to Stitch! I am thrilled to be designing for this club again in 2021. Our theme this year is samplers! Kits include pattern, threads and any needed finishing supplies. Visit Dyeing to Stitch's web site for more information and to download your registration form:
My wish for you this month is that you find simple, unaffected joy in the gifts that are around you each and every day.
~Wendy~

Featured