Sweet August Greetings!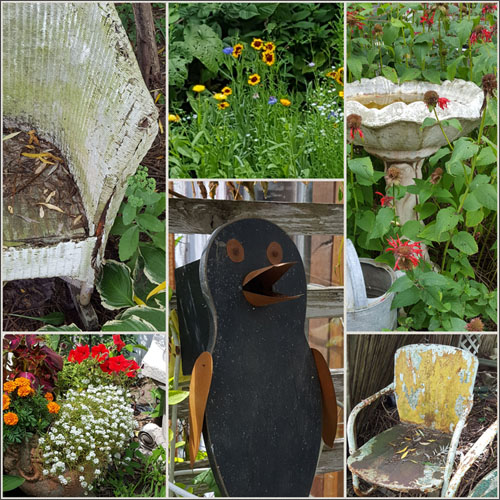 "Fairest of months! Ripe summer's queen,
The hey-day of the year;
With robes that gleam with sunny sheen
Sweet August doth appear."
~ R. Combe Miller ~
Just a few evenings ago, on our walk through the field, I heard it....the low chirring of a cricket in the tall grass. "No," I whispered, "not yet!" For the song of the cricket, as Nathaniel Hawthorne wrote, is one of the earliest tokens of autumn's approach. I love autumn. It is perhaps my favorite of the seasons. But I'm not ready yet! A little longer for the dear old summertime! But there is no slowing down time and as I walk through the field, the evidence is all around ~ purpling grapes, new acorns clinging to the Burr Oak, grasses with lovely, brown seed heads, mists gathering in the low pockets of the rolling farmland, cicadas humming in the trees. And last night at dusk, a perfect symphony of cricket-song! So, while I am looking forward to the arrival of autumn with all its delicious enticements, I shall embrace this month and every breath of summer left in it!
"The dandelions and buttercups gild all the lawn; the drowsy bee stumbles among the clover tops, and summer sweetens all to me."
~ James Russell Lowell ~
More Antique Samplers!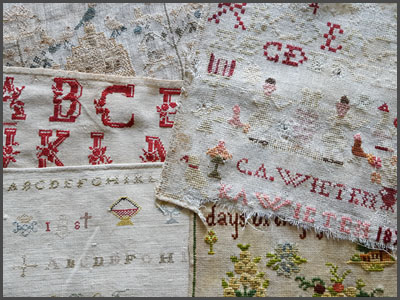 Visit my Antique Samplers page – I've added a few more treasures for you to consider!
In Closing...
I am working on a new design for next month. Until then, I wish you all the joys this lovely month has to offer!
As Ever,
Wendy

Featured