Welcome October!
Just a Reminder: If you ordered an e-pattern (instant download), it can be found in your account.
Look under My Account > Downloads.
"The afternoon was perfect. A deeper stillness possessed the air, and the glitter of the autumn was tempered by a haze which diffused the brightness without dulling it. In the woody hollows of the park there was already a faint chill; but as the ground rose the air grew lighter… The path wound across a meadow with scattered trees; then it dipped into a lane plumed with asters and purpling sprays of bramble, whence, through the light quiver of ash-leaves, the country unrolled itself in pastoral distances."
Edith Wharton, "the House of Mirth"
I think October is the loveliest of months for it embodies the best of both summer and autumn. Summer lingers in the warm afternoon sunshine and the still bright blooms of the marigolds and zinnias. The last of the tomatoes ripen on the vine (the very essence of summer!) and the chirring of the cricket, though slower, has yet to disappear. As evening advances, summer gives way to autumn. Wood smoke scents the air, stars prick brilliant holes in the sky, and our breath floats away in gentle plumes. By morning the grass is either thick with dew or white with frost. As the sun rises and the day gently warms, the flowers lift their faces, and it is summer once again. Summer….autumn….summer….autumn…. The cadence of each day is slow and sure until, like the leaves falling from the trees, summer floats away….
"I am rich today with autumn's gold
All that my covetous hands can hold…"
Gladys Harp
New Pattern!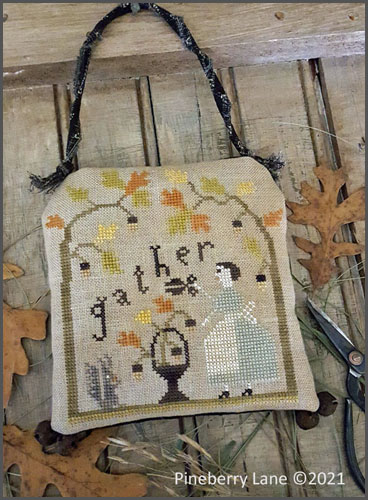 Just right for autumn, "Gather" features a sweet little lady gathering branches and leaves under the watchful eye of a gray squirrel. Finished into a small cushion with a calico hanger and a couple of rusty bells at each corner. Available in mailed and instant download formats.
Until next time, my friends, I wish you all the blessings this delicious month has to offer…
As Ever,
Wendy

Featured